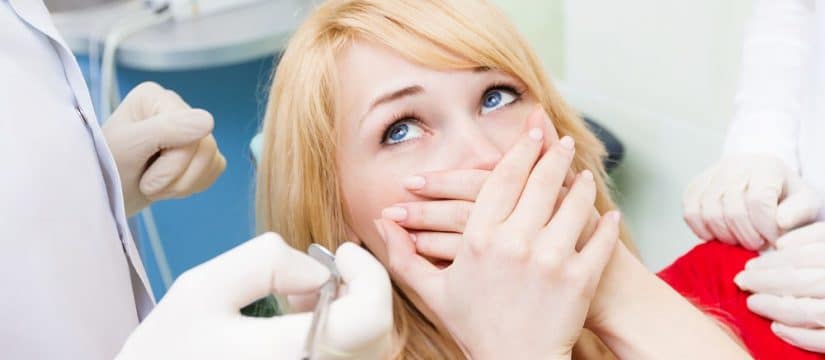 Dental phobia is a very real problem for millions of people around the world. Fear of the dentist and dental procedures can be so intense that it prevents many people from seeking the dental care that they require. Whether you have a slight case that simply makes visiting your dentist an unpleasant experience or you are so scared that you cannot even make an appointment, the tips below may help you to overcome your fears and go on to receive the treatment and care that you need.
Techniques You Can Use to Overcome Your Dental Phobia–
Face Your Fears– If there is one thing that is certain it is this nobody has ever beaten their fears by hiding from them. With this in mind our first suggestion is to put yourself in the one place you least want to be. Book an appointment with a dentist as soon as possible. You don't need schedule any major procedures but you could always start with a basic check-up. This will allow you to become familiar with your dentist and also discuss your fears with them so they can create a treatment plan that can accommodate your needs more accurately.
Find the Right Dentist– There is no getting away from the fact that some dentists are simply better than others when it comes to putting their patients at ease. As one of the best dental practices in Pimpama for those suffering with a dental phobia we can wholeheartedly recommend making an appointment with us but if you would prefer to stay with your current clinic it could be worth asking if you can try a different dentist. It could also be that your current dentist is unaware of your fears, in which case you may just need to have a chat with them before your next appointment.
Try Relaxation Techniques– Some mediation techniques or simple deep breathing exercises can help to keep you calm. If you are unable to find a relaxed state by simply following instructions you find in a book or online, you may consider searching for a local meditation/relaxation expert who can help you to get started and teach you some simple techniques to focus on during your dental appointment.
Take a Support Person with You– When you come along to your appointment bring a support person who can help keep you calm and feel comfortable. Sometimes just having someone with you to travel to the appointment with and sit with you in the waiting room can make a huge difference to the way you feel going into the appointment. 
Distractions– If your fears are relatively minor and your main problem is going through with dental treatment once you arrive at the clinic, a distraction during treatment may help you. Our Pimpama dental clinic offers televisions with Netflix on the roof for you to watch during your appointment. Some people also find bringing headphones and listening to music helps to keep their mind off things and drown out any sounds that may add to the anxiety.
Medication – For some people taking a medication before dental treatment may be the only solution to help with their fears. Your dentist can discuss options with you and in some cases can prescribe some medication to help you relax during treatment. This is, of course something for your dentist to decide on and we would never suggest that you try medication without consulting a fully trained and accredited healthcare professional.
If you would like to talk about your fears with an experienced dental professional, please do not hesitate to contact us by phone during clinic opening hours or by making an appointment online.