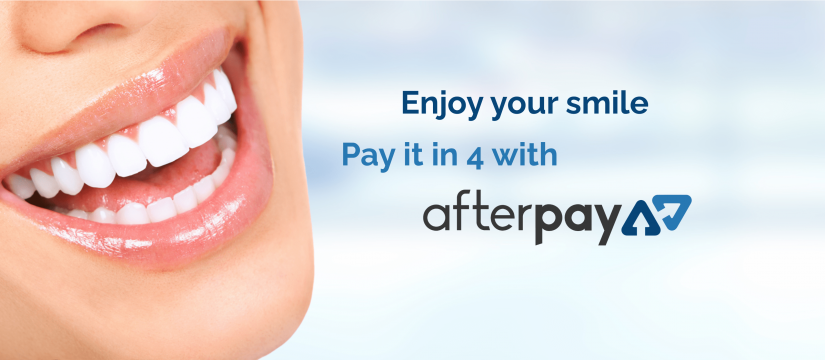 You might have already seen Afterpay as a payment option in stores and online. It is one of the most popular methods of payment available today. After pay is a safe and easy payment option that lets you purchase when you want and worry about the rest later and when it comes to Pimpama City Dental Centre it's available to you!
It gives you the freedom to be able to get treatment done with the flexibility of paying it in installments. After pay works by telling us that's how you'd like to pay, then sign up for an AfterPay account or log in and confirm your purchase. Afterpay will pay immediately on your behalf so your order will be processed straight away. Pay off your balance in 4 fortnightly installments over 6 weeks.
In order to use after pay you must be eligible. The criteria is as follows: that you be 18 years or older, be an Australian or New Zealand citizen or permanent resident and have an Australian or New Zealand payment card. There are many positives about using Afterpay, we have noted a few down for you to have a look at:
No interest. It works like a no-interest loan. You have longer to pay for your chosen item, for no added interest.
No advance sign up for in-store purchases. Even if you don't have an account, you can still walk into a selected retailer and choose Afterpay. You'll just need to sign up later.
Manage your account. Sign in to see your upcoming payments, orders and account information.
Reminders. You'll be notified ahead of time when a payment is coming up and how much it is, so that you can make sure there's no overdrawing.
Automatic deductions. Each quarter amount is automatically deducted from your chosen card to make sure you can keep up with your repayments, even if you're busy or you can't get online.
Pay in advance. You can pay installments ahead of time, penalty-free.
Market-leading security. Afterpay is a PCI DSS Level 1 certified compliant service provider. This is the highest level of payment security there is, for both your card details and your personal information.
If this is something you are interested in, do not hesitate to call us on (07) 5670 3777 or discuss it with us next time you are in for your appointment.